Staining & Preservation

Based on our experience, most readily bought stains are not suited for most log or wood sided homes. They may contain resins that actually seal the wood and does not penetrate into the surface, thereby causing the wood to eventually rot. These particular stains tend to darken and peel. The colour you originally chose will eventually turn many shades darker and the only way to obtain your original colour is to re-strip the surface, which in turn will cost the home owner $$$. Also a simple clear coat will not work on the exterior of any home. A pigment must first be done (which is the stain) and then a clear coat.

Good stains should never peel and never darken. As with anything left exposed to the harmful UV RAYS of the sun, they will fade, this is when maintaining the wood must be done and additional coats must be applied. We at North American log home use only the best stains on market devised for log /wood siding homes in mind. These stains are not bought at the local hardware stores. We use a two part stain system, where the first two coats are pigment (stain) with a 3rd coat of clear water repellant/UV protection. Most stains are semi trans-parent and water based and we also offer a variety of opaque stains. These stains carry a maximum penetration depth at the same time allowing the wood to breathe. On average most wood homes should be maintenanced every 3-5 years depending on the elements of where you live.

During the restoration phase when the old coating has been removed, it is also a good idea to apply a pre-treat wood preservative to the structure. This process gives added protection against rot, mold, mildew, and protects against most wood boring insects. This can only be done when the structure is free of all coatings. We apply 2 coats of preservative and with the usual two coats of stain and an additional coat of our clear UV/ water repellant, it gives your home the utmost protection against all the harmful elements.

To achieve the highest level customer satisfaction, we will assist the client in choosing the right colour during the restoration to make sure you pleased with the final outcome.


Chinking
Staining & Preservation
Log Rot Replacement
Paint & Stain Removal
Log Home Purchase Inspection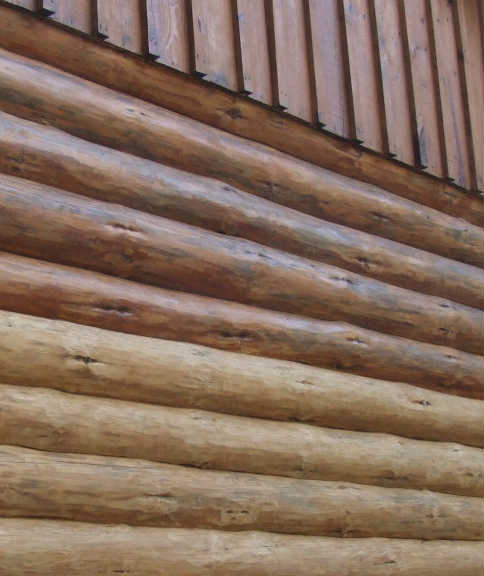 - Red Pine -

With and without Stain.